Olympic Village Dental
Botox At Your Vancouver Dentist
We offer Botox at Olympic Village Dental, administered by Dr. Gabor.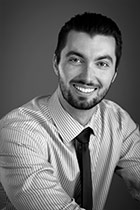 Dr. Cornel Gabor
General Dentist
Dr. Cornel Gabor, General Dentist, graduated from McGill Dental School in 2010. He then moved to Vancouver to complete a one year General Practice Residency at UBC, where he further trained in sedation, surgery, and provided care to underprivileged communities in BC and abroad.
Dr. Gabor strives for high-quality work and is always trying to improve himself by staying current with new techniques and technologies. He attends numerous continuing education courses and is an active member of the Canadian Association of Restorative Dentistry and Prosthodontics (CARDP). He is also dedicated to teaching dental students, which he has done at McGill for the past 4 years.
Contact Us
Request An Appointment
New Patients Welcome
Take Care Of Your Oral Health & Book Your Dental Hygiene Appointment Today